I love New York City. I haven't been back (home) since early November, and I won't be going back most probably until July. But today the temperature dropped and I could almost remember the feeling of early spring in the city, so I decided to celebrate it with an icon of the good ol' Big Apple: Black and White Cookies.
Black and White cookies are amazing. When my sister and I were young(er), our parents used to take us to South Florida's version of a New York deli,
Toojay's
, where Ari and I would split a black and white cookie. There's something truly wonderful about the taste of a black and white, a cakey, spongy base with the sugary goodness of the icing, all with a just-barely-hidden bit of a lemony zest.
I've tried making these before, using an internet copycat recipe that claims to be the recipe used by
Zabar's
, but I've never had any luck with them. They always come out too dense and hard to be real black and white cookies, which, as the story goes, were originally made from leftover cake batter.
So I tried something new, and the batter came out amazingly cakey and spongy, just as I'd remembered. The icing's consistency required a little tweaking, but I think I got it right. And then I gave one to my roommate, who has never been to New York--she gave it a two thumbs up. Now I just need to find a true New Yorker to give it an authenticity test...
New York Black and White Cookies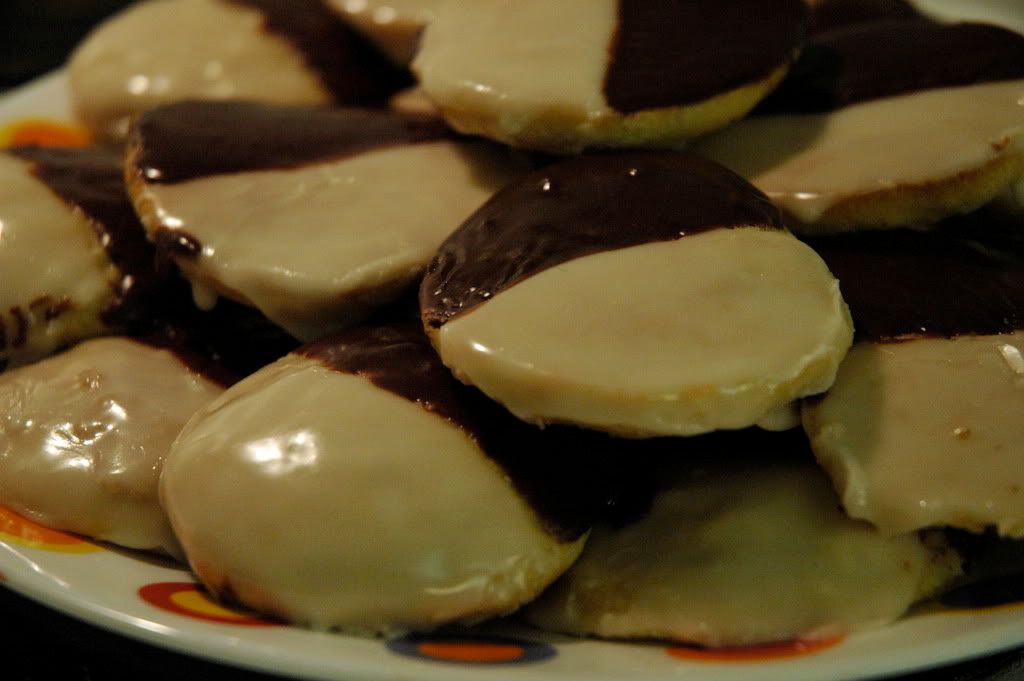 I also made another loaf of rosemary focaccia bread last night to compliment the super veggie noodle soup I made for my sick roommates:
And now, I am off to ready myself for rehearsal number three, as well as for my second night of work at Domino's Pizza.
Kay