Ahhh, Daring Bakers, how I love thee. This month's challenge was a recipe from
Dorie Greenspan
, the "Perfect Party Cake." This cake is light, fluffy, and perfect for embellishment with berries and buttercream. It is made with lemon zest and a little bit of buttermilk, so there's a nice tangy undertone, which only enhances the sugary goodness of the whole cake.
I am still working on being a cake decorator. As it stands, I'm decidedly
not
going to be, say, featured on Ace of Cakes any time in the near future. I can decorate a mean cookie, but when it comes to cakes, I freeze up. I'm working on it though. So my cake, which was filled with raspberry preserves and swiss buttercream, and topped with buttercream, gum paste flowers, and fondant bunnies, is a little sloppy looking. I love love love the Daring Bakers, though, because I posted about my difficulties, and I got all kinds of advice and support. So the next cake is gonna be awesome: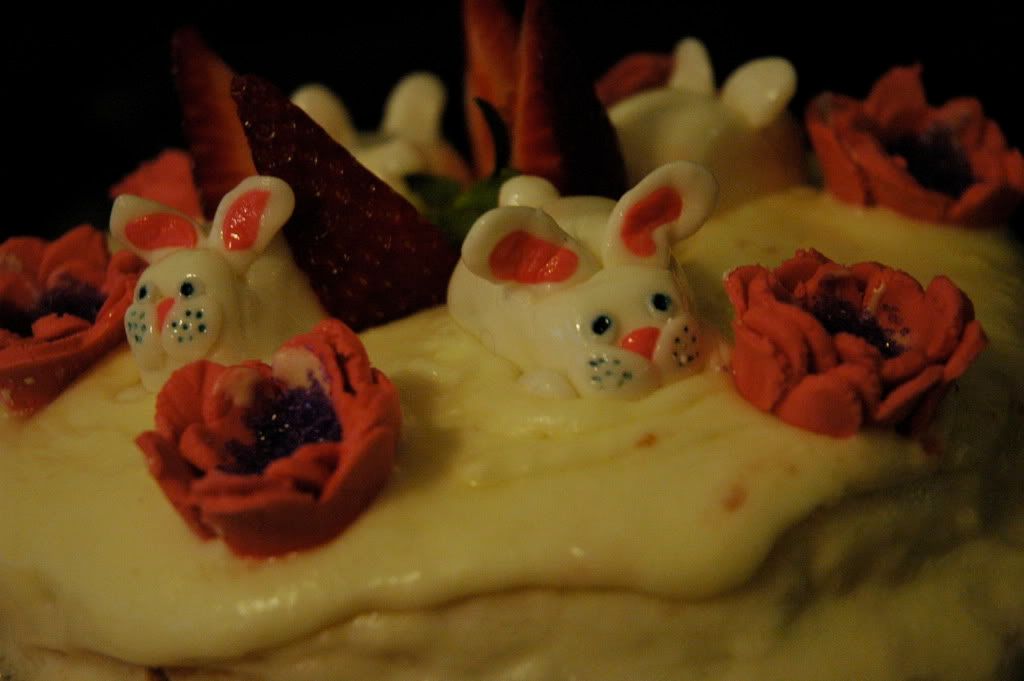 I actually spent Spring Break planning this cake. I made the gum paste flowers on Tuesday, the bunnies on Friday, and the cake that Sunday. I brought it in to rehearsal for my actors that Monday--and it was a hit. I highly recommend checking out all of Dorie's recipes--there's group of bakers who do
"Tuesdays With Dorie,"
where they bake a different recipe and post about their experiences with it every Tuesday. It's kind of awesome.
Anywho, I'm off to finish editing my thesis...more soon!
Kay