I believe very strongly that fiction has the ability to change lives--in fact, I've had my life changed by several authors, whose works I continue to read and reread whenever possible. Among them are included: Norton Juster, who wrote
The Phantom Tollbooth
, which made me first fall in love with the power of the English language (and decide that I wanted to be a writer); Kurt Vonnegut, whose
Cat's Cradle
I encountered at a very difficult spiritual time in my life and learned that I was not alone in my feelings of cynicism and (then) almost hostile agnosticism (which came from a mixture of feelings of abandonment by god and shock at being duped into believing all my life); Mikhail Bulgakov, whose
The Master and Margarita
is still, to this day, my absolute favorite work of fiction; and Tom Stoppard, who wrote
The Real Inspector Hound
, which inspired me to become a playwright and
The Real Thing
, which is one of the most simply complex and powerful pieces of theatre I have ever encountered.
So when I saw the
Novel Food
round-up being hosted by
Champaign Taste
and
Briciole
, I had no idea how I could a) pick a piece of literature that has had a profound enough impact upon me to inspire a recipe and b)write a recipe that could represent a work that means something to me. But I've been thinking long and hard about it, and it came to me this past weekend: J.D. Salinger's "A Perfect Day for Bananafish."
"Bananafish" is not a novel, but a short story, which is the first of his published
Nine Stories
. The first time I read it, I cried. It's one of the most powerful short stories that has ever been written...and yet it is so simple, so utterly
honest
that it has enchanted, and continues to enchant, me completely. After "Bananafish," Salinger wrote the novellas
Raise High the Roofbeams, Carpenters
and
Seymour
, as well as the novel
Franny and Zooey
, which all revolve around Seymour, the young man who spends his last day on earth on a beach helping a little girl look for a bananafish. Among other things.
I don't want to give anything away, because I highly suggest that you find a copy of this story and read it. Then read it again and keep it somewhere that you can grab it whenever you feel the need to have your reason for being alive reaffirmed.
Until then, enjoy my
Perfect Day for Bananafish Cookies
: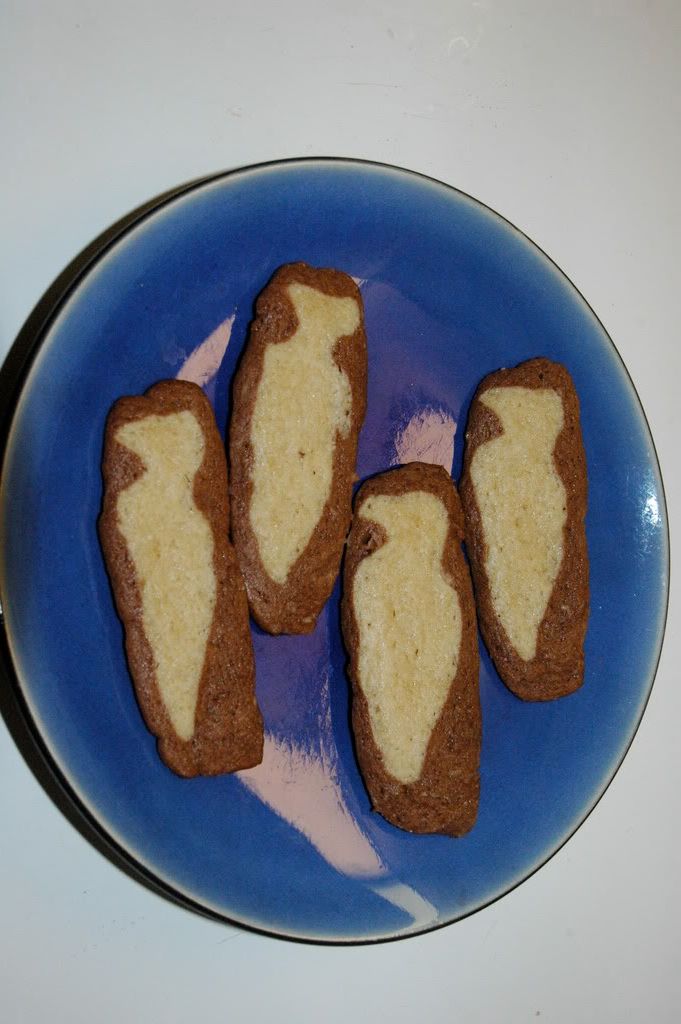 The cookies are a sort of variation of the checkerboard cookies, although they're SO much softer and, I think, much tastier. The banana flavor is not overpowering by any stretch of the imagination; in fact, my roommate, who says she's not a fan of banana flavored anything, loves them.
It took a long time to make the cookies, because a) they're refrigerator cookies and had to be frozen before the dough could be manipulated and then refrozen once they were shaped, and b) I had to find a way to make the fish shape stay when I wrapped the chocolate banana dough around the regular banana dough. It was a struggle--I went through two different variations of the banana cookie recipe before I was satisfied--but SO worth it.
"On the sub-main floor of the hotel, which the management directed the bathers to use, a woman with zinc salve on her nose got into the elevator with the young man.
'I see you're looking at my feet,' he said to her when the car was in motion.
'I beg your pardon?' said the woman.
'I said I see you're looking at my feet.'
'I
beg
your pardon. I happened to be looking at the floor,' said the woman, and faced the doors of the car.
'If you want to look at my feet, say so,' said the young man. 'But don't be a God-damned sneak about it.'
-"A Perfect Day For Bananafish by J.D. Salinger
Kay