It's finally over...and I'm not sure it's hit me yet.
Where the Bee Sucks, or Christopher Marlowe is Dead
was one of the best experiences of my life. It's so strange to see the words that I wrote on paper--words that I labored over, fretted about, changed, rhymed, and manipulated--were really brought to life in front of an audience. And not only were they brought to life, but they were brought to life convincingly--my actors did such an absolutely incredible job, and I couldn't have asked for a better director or stage manager. I can't stop gushing. I'll post a link to photographs as soon as I have them uploaded to my computer.
Now on to the reason for this post being here so early in the morning: The April Daring Bakers challenge. I have no idea how I managed to muster up the time or the energy to complete it, but here goes:
Cheesecake Pops.
I was a little apprehensive about making these, mainly because the recipe called for five 8 oz packages of cream cheese--and in today's economic climate, well...and then there was also the water bath and the incredibly long cook time (especially since I usually had about 1 hour or less between each of my comings and goings in the past month). But somehow, I managed.
These cheesecake pops are made by preparing an actual cheesecake and then scooping out 2 oz balls, putting them on lollipop sticks, and then dipping them in tempered chocolate and various toppings (which were left to our respective discretions). I went with a plain cheesecake (no fancy flavorings) and graham cracker and sprinkle toppings.
The cheesecake was a little bit difficult to make, and, like many of the other DBers, I had a very long bake time. For some reason, the middle of the cake took for
ever
to bake, while the sides browned nicely. I had a little extra batter left over because I only have a 9" cake pan, so I poured the remaining batter into my mini muffin pan and baked it in an impromptu water bath made from one of my cookie sheets. Those minis cooked perfectly. Duly noted for next time.
While I'm sure the cheesecake pops are great for gifts or party favors, I didn't even get a chance to stand them up and make them look all pretty--they were eaten straight out of the refrigerator by my roommates and friends. Apparently, they taste incredible.
The only real problem I had with them was getting them not to melt and fall off of the lollipop sticks. Here in Florida, it's too darn humid to keep them out of the fridge for more than a couple of minutes. Fortunately, they didn't last long enough to melt.
Daring Bakers: Cheesecake Pops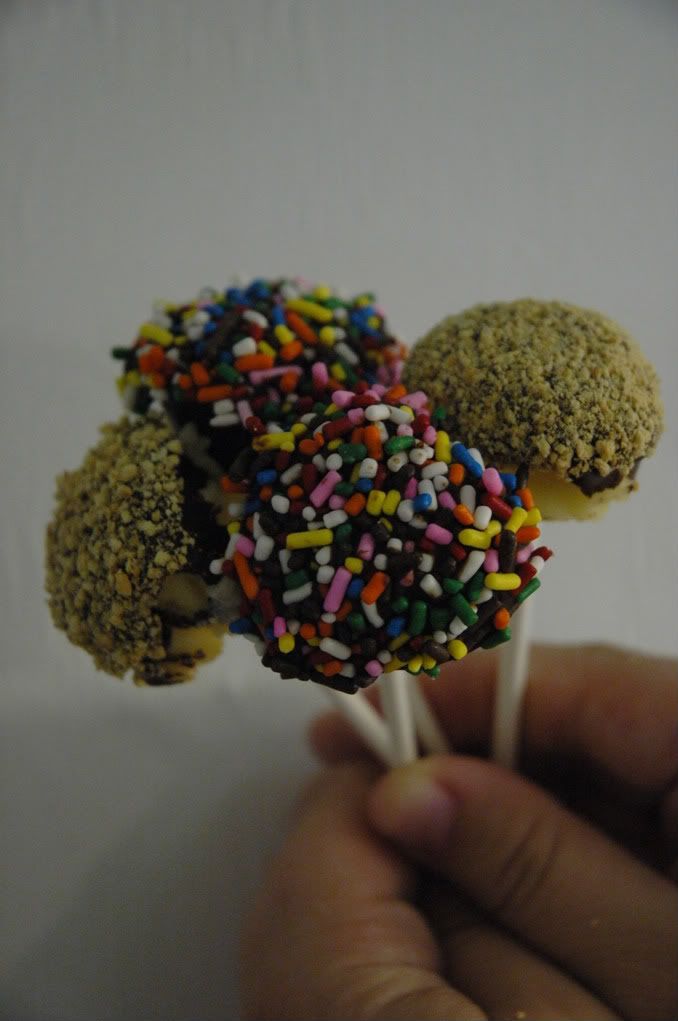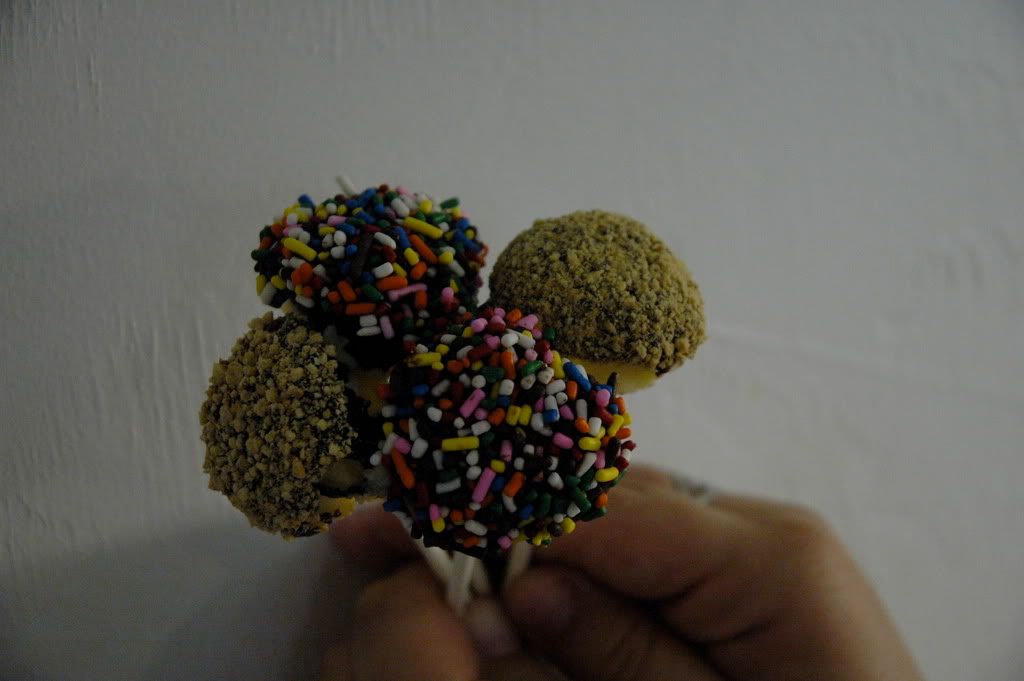 Oh...and I baked my cast and crew a cake, using the amazing cake decorating book from
Tartlette
as inspiration:
Where Have All the Honeybees Gone Cake
(Yellow Cake with Strawberry Whipped Cream filling, Butter Cream Frosting, and Marshmallow Fondant)
I miss the theatre already.
Oh! and one last thing: I was published in the Mangrove Literary Review here at UF. It's just a poem, but I'm still excited that someone thought it was good enough to publish.
What a week!
Kay