Somehow, April is almost over, and Passover is just about here. I figured that, since I have some friends who like to keep kosher for Passover, I should try to find a way to make Kay's Cookies kosher so they can continue to enjoy them this weekend. In that same vein, my mother has been nudging me to make a healthy cookie, especially if it's one that my brother, who has an oat allergy, can eat.
So.
The other day, I saw that Heidi of
101 Cookbooks
had posted a recipe for Black Bean Brownies. I did a double take.
Black beans
in a
brownie
? Believe it or not, yes. I used her recipe (but, as usual, with a few artful tweaks by yours truly) and they were
amazing
. The most fabulous part about these brownies is that they're made without flour OR sugar. Sure, there's a sugar substitute, but it's actually quite quirky:
Agave nectar
. I found some at Mother Earth, and I'm kind of excited to see what else I can do with it in the future.
As for the un-oatmeal oatmeal cookie, I think I hit the jackpot on my first try. While searching for the agave nectar at Mother Earth, I stumbled upon a box of
Quinoa
(pronounced keen-wa) flakes. Quinoa is not only gluten-free, but it's also kosher for passover. I made a basic oatmeal cookie, but substituted quinoa meal for all-purpose flour and quinoa flakes for the oatmeal. ...And then I added melted semi-sweet chocolate...AND cocoa powder.
I'm so happy the way they turned out:
Black Bean Brownies and Double Chocolate Quinoa Cookies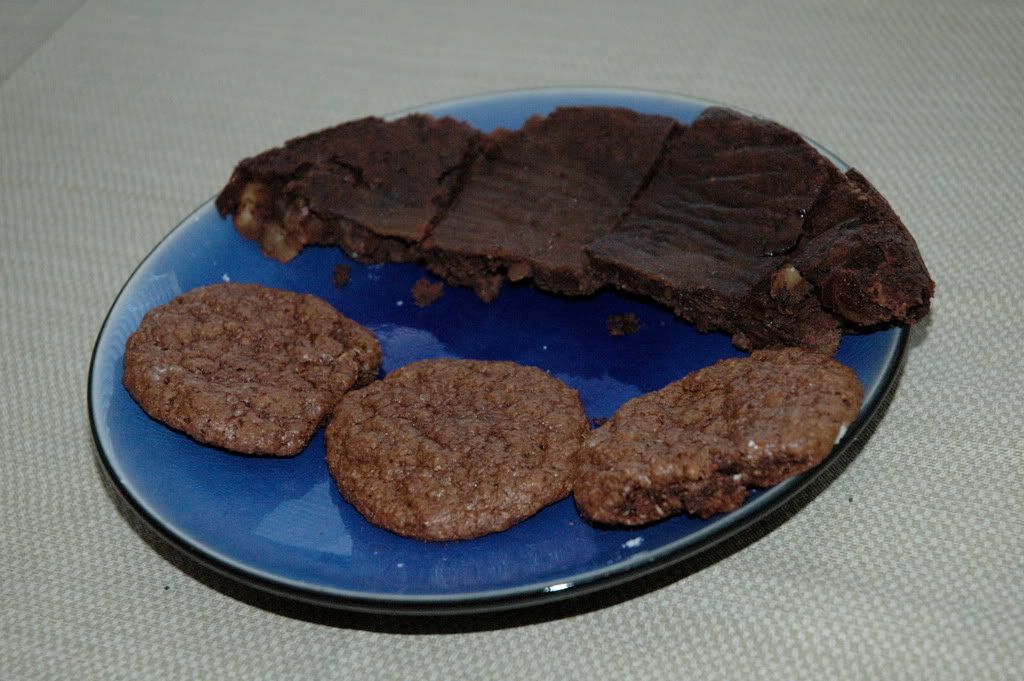 I'm still hoping that there will be time to try making some coconut macaroons before Passover, but starting tomorrow at 3 pm, I will be setting up camp in the Black Box theatre. Speaking of which, if you're in Gainesville (or its surrounding environs) and want to come and see my play, "Where the Bee Sucks, or Christopher Marlowe is Dead," then you should probably head on over to the
Florida Players
website and reserve your *FREE* tickets. My show is on Wednesday, April 23rd at 8 pm and Saturday, April 26th at 12 pm.
I'm so excited!
Kay