I was in the kitchen today from 9 am to 7 pm, just working on two batches of cupcakes. I think I might be insane. Especially because I was in the kitchen all night working on carrot cake cookies.
Why have I been so insane? Well, I had a ton of carrots left over from last week, when I made soup for a sick friend, and I didn't want them to go bad. And I wasn't in the mood for baking a cake, so carrot cake cookies seemed like the best way to go.
I pretty much modified my basic sugar cookie recipe by increasing the amount of brown sugar and adding a bunch of lovely spices (like cinnamon and cardamom), and then mixing up a batch of cinnamon cream cheese frosting and sandwiching it between two cookies. Beautiful.
This morning, I broke open my new set of cake decorating tools and made my carrot cake cookies legit--and then, with the leftover icing, I decorated some sugar cookies.
After that, I got my Buck's Fizz Cupcakes started. Tomorrow I'm doing a cake tasting to decide on the recipe that I will use, so today I spent my 10 hours in the kitchen making custards and cupcakes and frostings, and praying that something would come out right.
The two versions I ended up with are Orange Custard filled Champagne Cupcakes with Orange Buttercream Frosting and Champagne Custard filled Orange Buttermilk Cupcakes with Champagne Buttercream frosting. My roommates keep eying the cupcakes as they walk into the kitchen...I'm excited to see what my friends think tomorrow.
And now, the photos: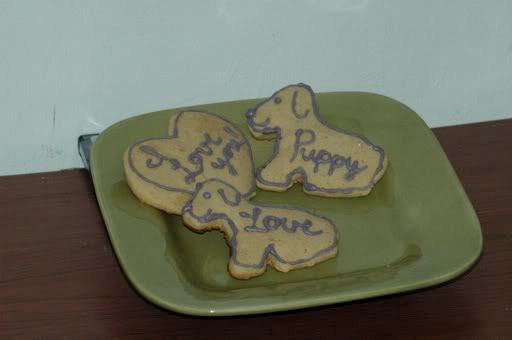 Champagne Cupcakes with Orange Filling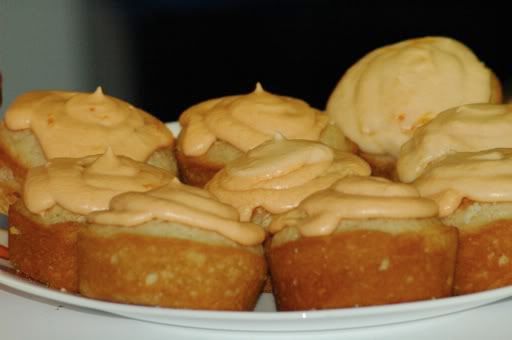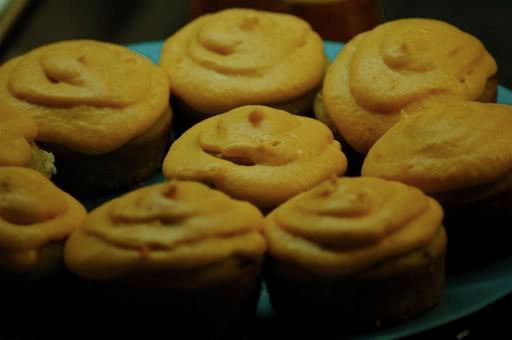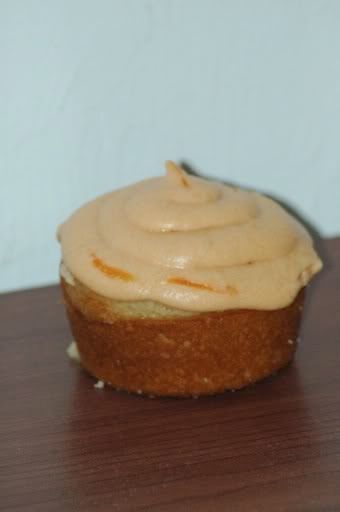 Orange Buttermilk Cupcakes with Champagne Filling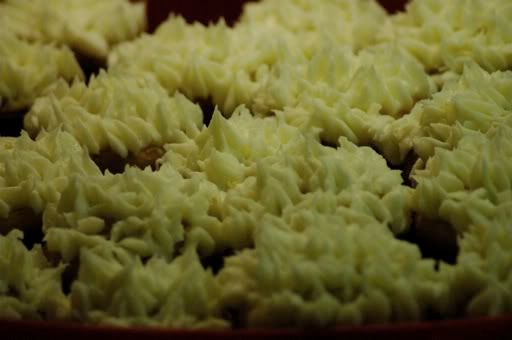 And my lovely sous-chef, Frida (who helped me eat the leftover carrots)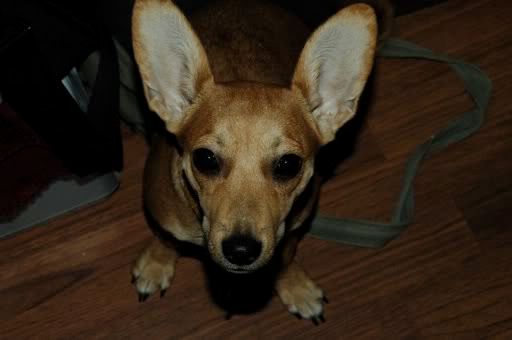 Kay